The SPARK Matrix™ from Quadrant Knowledge Solutions provides a market analysis and a ranking of the leading IT infrastructure monitoring tool vendors. Due to its comprehensive coverage and business focus, Centreon received high scores on the criteria of technology excellence and customer impact.
Paris, July 5, 2022 – Centreon, the reference partner for digital performance monitoring, is positioned among the Top 10 worldwide vendors of IT infrastructure monitoring solutions. This ranking among industry leaders, based on both the solution's quality and its operational benefits for organizations, is an additional recognition for Centreon.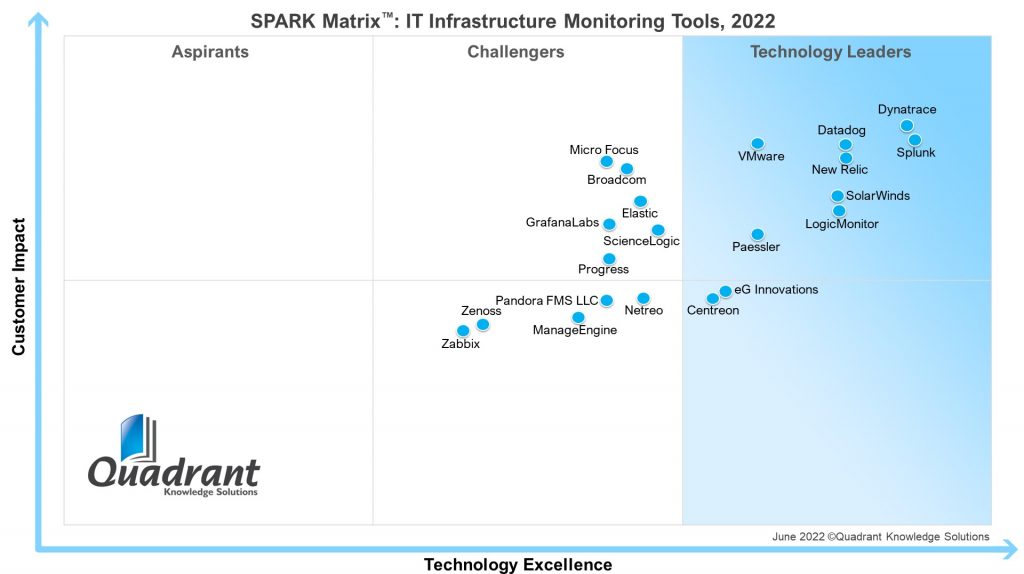 The study conducted by Quadrant Knowledge Solutions presents a detailed analysis of the global market, key trends and with its SPARK MatrixTM, a positioning and ranking of the leading IT infrastructure monitoring vendors, evaluated on two criteria:
technological excellence: technology sophistication, competitive differentiation strategy, integration and interoperability, etc;
customer impact: product strategy and performance, ease of deployment and use, customer service excellence etc.
Ganesh Reddy Bonthu, analyst at Quadrant Knowledge Solutions, commented: "The comprehensive visibility that the Centreon platform provides, its business focus, and its open and flexible architecture enable organizations to monitor IT in all its diversity and breadth, from the cloud to the legacy, from the network to the application layers for real-time visibility and detailed reporting on the performance of the most critical business operations."
Ganesh added, "Centreon is well positioned to meet the diverse needs of customers operating in all industries. With its broad technical and functional coverage, reference customers, roadmap and vision, and scalable solution portfolio, Centreon has received high scores on technology excellence and customer impact criteria and has, as a result, been positioned as a leader in our SPARK Matrix 2022 ranking of IT infrastructure monitoring tools."
With R&D investments in constant evolution, 21% in 2021 and 28% in 2022, Centreon ensures it has the means to match the evolution of the IT monitoring market. To this end, the software vendor is launching Centreon Cloud in the second half of 2022, supported by Amazon Web Services cloud computing services.
Julien Mathis, CEO of Centreon said:  "We are very pleased to be ranked as a leader in the SPARK Matrix of Quadrant Knowledge Solutions. This is an important recognition of the work done by all our teams and rewards our obsession with customer and partner satisfaction."
Going further:
***
About Centreon
Centreon is a global provider of business-aware IT monitoring for always-on operations and performance excellence. The company's AIOps-ready, business-aware IT monitoring platform is renowned for its unique ability to monitor today's complex and converging infrastructure, from cloud-to-edge. Privately held, Centreon was founded in 2005 with roots in open source software. Today, Centreon is trusted by organizations of all sizes across a wide range of public and private sectors and works closely with channel partners to deliver these solutions globally. Its head offices are located in Paris and Toronto, with sites in Geneva, Luxembourg and Toulouse and sales presences in London and Milan. For more information, visit centreon.com.