The company has gone from a student project to becoming a global leader in
IT monitoring, with now more than 1000 customers in 60 countries. 
Paris, November 16, 2023 – On the occasion of its 18th anniversary, Centreon, the leading partner in digital performance monitoring recalls its journey and looks forward to the next 5 years of innovation at the service of organizations. 
Monitoring, a critical area for global IT performance management
With the constant evolution of technologies (hybridization, IoT, cloud …) and their proliferation within the IT system, the teams responsible for ensuring the digital performance of the organization are under intense pressure from IT complexity. To address these ever-changing cloud-to-edge IT environments, public and private organizations rely on specialized, highly scalable solutions.
Designed to monitor all IT and OT technologies, Centreon is a leading solution for ensuring operational excellence. The software company introduced the concept that always-on IT is the sine qua non condition for digital business performance, offering the market an unmatched solution to ensure constant IT uptime and eradicate business downtime , ultimately becoming a tool to optimize business performance and making IT more environmentally and cost efficient. 
From a student project to an international software company
From a student project at a Parisian engineering school, Centreon has grown in just a few years to become an IT monitoring leader on which the world's largest enterprises and public administrations rely every day. 
Initially, the software was designed as an Open Source graphical interface on top of Nagios to simplify monitoring and automate tasks, then it gradually adapted to organizations' expectations by providing functional extensions, notably based on AI, as well as a SaaS deployable version (Centreon Cloud).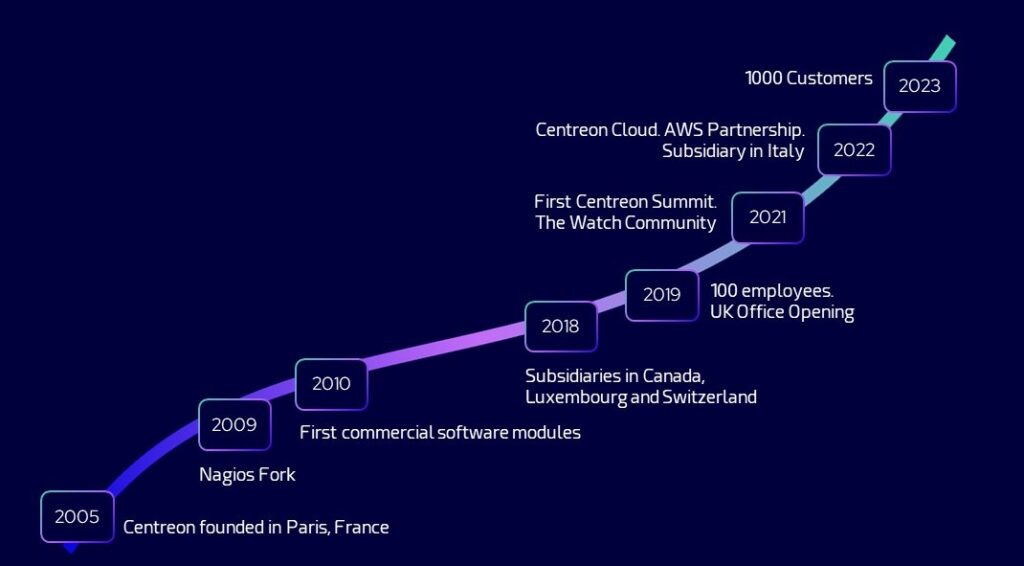 Centreon, monitoring leader, serving over 1,000 customers
From banking, to insurance, industry, energy, transportation and logistics, retail, tourism, media, healthcare, and the public sector, Centreon is deployed in all business sectors. The software provider serves now 1,000 customers worldwide, in 60 countries, including: Airbus, Addax Petroleum Sky, Rai Italia, Groupe Media TFO, CCMA, Manchester University NHS Trust Foundation, Telefonica, RNP, ZF Group. 
Centreon is a true global success story with 250,000 users and partners in more than 60 countries, regrouped in a  community known as "The Watch", who contribute to the continuous improvement of the software.
The ease with which the Centreon solution can be integrated into different IT systems, its ability to provide extended visibility over all IT and OT equipment, and to trigger alerts before issues occur are just some of the reasons Centreon users highlight to illustrate why the software is a successful tool for them.
"In 18 years, we've gone from being a student project to becoming a global leader in IT monitoring. Our mission is to put IT at the service of business growth and government excellence. We would like to thank our employees, partners, and customers for their constant confidence in us," says Julien Mathis, CEO and founder of Centreon. 
Ready for the era of Big Monitoring and AIOps
Centreon is committed to support  big data and AIOps (Artificial Intelligence for IT Operations), which involves deploying solutions designed to adapt to the exponential growth in the volume, variety, and velocity of data processed by ever more complex environments, including IoT, the edge and multiple clouds,  this on top of monitoring energy consumption and carbon impact, as well as rich digital experiences. This is what Centreon defines as the era of Big Monitoring. 
"We've always been innovation driven. We believe that Big Monitoring will be the next step in monitoring and observability. Centreon is preparing for this by investing in R&D and working ever more closely with its technology partners. We are also looking to acquire startups to strengthen our position as a major player in IT monitoring and grow market share over the next 5 years," continues Julien Mathis.
With the success of its SaaS platform – Centreon Cloud – hosted in Europe and North America by AWS, and the latest AI and IoT features added to version 23.10, Centreon is in a strong position to pursue its commitment to customers and partners for always-on IT and optimal digital performance.
 —————————–
About Centreon
A leader in digital performance monitoring, Centreon has been developing a unique expertise in monitoring infrastructure, networks, and digital user experience since 2005. A thousand clients—public organizations, enterprises, and MSPs worldwide, an extended network of 90 partners, and 250,000 users in 60 countries, count on Centreon every day. With a 160-people team working from five different countries, Centreon posts a 30% average yearly growth. For more information, visit www.centreon.com.