This acquisition contributes to the acceleration of Centreon's international development and strengthens its leadership position in key European markets
Paris – May 03, 2022 – Centreon, the reference partner for digital performance monitoring, today announced the acquisition of Artesys Orion, an Italian consulting and technology services company specialising in the integration and resale of IT software.
Through this acquisition, Centreon accelerates the development of its international activities, focused on the marketing of information systems supervision solutions for business performance. With this operation, Centreon develops its presence in Italy, the 6th largest European market for IT Operations, estimated to be worth $506 million by 2025, with an average annual growth rate of 11%.
Founded in 1999, Artesys Orion is active in all Italian industrial sectors, either as a direct service provider or through service partnerships. It was also the exclusive distributor of Centreon's IT supervision solutions to companies and institutions such as Sky Italia, Azienda Trasporti Milanesi and Amadori.
Following this operation, Artesys Orion becomes Centreon Italia. The new subsidiary will be managed by Marc Antoine Hostier, current Chief Operating Officer of Centreon, alongside Massimiliano Faraon, who founded Artesys Orion.
Julien Mathis, CEO and Co-founder, and Marc-Antoine Hostier, Chief Operating Officer of Centreon, commented: "In over 20 years, Artesys Orion has developed strong relationships with its customers in Italy. We are particularly proud of this acquisition which marks a new step in our ambition to become the leader in IT supervision in Europe. This new subsidiary strengthens our presence outside of France and opens up the possibility of operating more strongly from Italy in neighbouring markets. »
Massimiliano Faraon, Founder of Artesys Orion, new Regional Sales Manager of Centreon Italia: "Artesys Orion has expanded its expertise in recent years in the distribution of IT solutions. This has helped us grow and differentiate ourselves in our market. This transaction gives us the opportunity to join a fast-growing group and to develop our presence in Italy more rapidly. »
The opening of offices in Italy is Centreon's latest expansion operation, following the group's entry into the UK and Irish markets in 2020. Centreon's growth strategy includes a presence in new markets after Paris, Toronto and London, as well as new technological offerings, notably Centreon Cloud, available on AWS.
Centreon key figures for 2021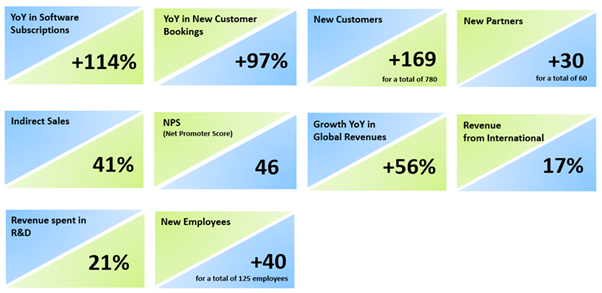 Details of the operation will not be disclosed.
***
About Centreon
Centreon is a global provider of business-aware IT monitoring for always-on operations and performance excellence. The company's AIOps-ready, business-aware IT monitoring platform is renowned for its unique ability to monitor today's complex and converging infrastructure, from cloud-to-edge. Privately held, Centreon was founded in 2005 with roots in open source software. Today, Centreon is trusted by organizations of all sizes across a wide range of public and private sectors. Its head offices are located in Paris and Toronto, with sales offices in Geneva, Luxembourg and Toulouse. For more information, visit centreon.com.