Artificial Intelligence technologies and critical improvements in Alert Management and Auto-Discovery make monitoring Cloud-to-Edge infrastructure more efficient than ever.
Years after years, whatever the pandemic situation and its implied remote working realities, we stick to our calendar and release a new major version of our IT Monitoring Platform the third Wednesday of April and October. Today we are releasing Centreon 21.04, the latest  version of our Centreon Open Source, Centreon IT Edition, Centreon Business Edition and Centreon MSP Edition products.
This blog post gives an overview of what to expect with 21.04. In a nutshell? Software version 21.04 for the first time makes Artificial Intelligence & Machine Learning capabilities available to all customers running Centreon Business Edition, while improving on two critical Centreon Platform capabilities: Event & Alert Management and Auto-Discovery Engine.
Altogether this makes Centreon 21.04 more efficient than ever to monitor diverse and dynamic IT Operations that span across Cloud technologies, Legacy equipment, Edge computing and Network infrastructure connecting everything together.
If the information here is not detailed enough, the best way to discover what Centreon has to offer is to ask for a live demo unless you want to deep dive and read the detailed release notes. Or you may want to register to our dedicated 21.04 webinar, your best opportunity to ask questions to our Product Managers.
Anomaly Detection: now ready for Prime Time
We spent almost a year carefully trialing – along with some selected Centreon users – Anomaly Detection, a feature that leverages Artificial Intelligence (AI) and Machine Learning (ML) technologies to detect issues that tend to go unnoticed.
This was the time we needed to validate the usefulness of the feature in a real, live IT Operations environment, fine-tune our machine learning algorithms while improving their resilience, build our Cloud Operations and demonstrate the end-to-end suitability of our unique Cloud-Augmented Architecture.
The good news is that Anomaly Detection and our Cloud-Augmented Architecture are now ready for Prime Time! All customers running a Centreon Business Edition platform updated to this new 21.04 software version can access our Cloud infrastructure to use the new feature.
Leveraging AI/ML algorithms implemented in the Centreon Cloud, Anomaly Detection automatically learns patterns from the indicators you are monitoring. The Centreon on-premise platform can then alert you as soon as an equipment is experiencing an unusual behaviour, without relying on traditional fixed thresholds.

This is useful for those metrics which follow some kind of pattern, and not that useful for erratic behaviours. You're not sure which metrics apply, which doesn't? We've got you covered! Centreon 21.04 also includes an auto-suggestion feature which job is to… automatically suggest metrics relevant to Anomaly Detection.  
With this new architecture, Centreon combines extensive capabilities for on-premise monitoring with the unlimited power of the Cloud. Centreon monitoring servers can now seamlessly integrate with the Centreon Cloud environment to access extra Cloud Computing capabilities as needed.
Want to know more about the Anomaly Detection feature, the AI/ML logic behind the feature or the Cloud-Augmented architecture? Watch this 30-minute webinar that goes in detail about each of these topics.
Your Centreon Business Edition platform is up to date with 21.04 and you are ready to experiment with Anomaly Detection? Read the online documentation to get started.
Running a Centreon Open Source or Centreon IT Edition platform? Contact us to learn more about Centreon Business Edition and how you can up your game with a Business-Aware monitoring platform.
Event & Alert Management: Resource Status now Rocks!
Implementing a modern and efficient User Experience that fosters IT Operations team productivity: this is one of the pillars of our Product Roadmap. And User Experience implies Users: we listened to the feedback of hundreds of Centreon users that operate small and large IT Infrastructures night & day, 365 days a year, analysing what they had to say about the beta version of our new Resource Status Event & Alert Management user interface.
The result is implemented in 21.04: dozens of small improvements that make life so much easier for IT Operations teams and a few major improvements which make 21.04 the Centreon version you want to operate:
50% more compact view: less blank means more meaningful information

Now lists Meta-Services in addition to Hosts and Services events

Comprehensive new filtering options, including poller / monitoring server

Easily shareable views with filters and other parameters now saved in the url

You may now choose the ordering of columns, show or hide any column or indicator

A brand new Graph display engine that brings a whole new user experience when it comes to analyzing time-series, with too many improvements to list here: you'll want to see a demo or experience it for yourself!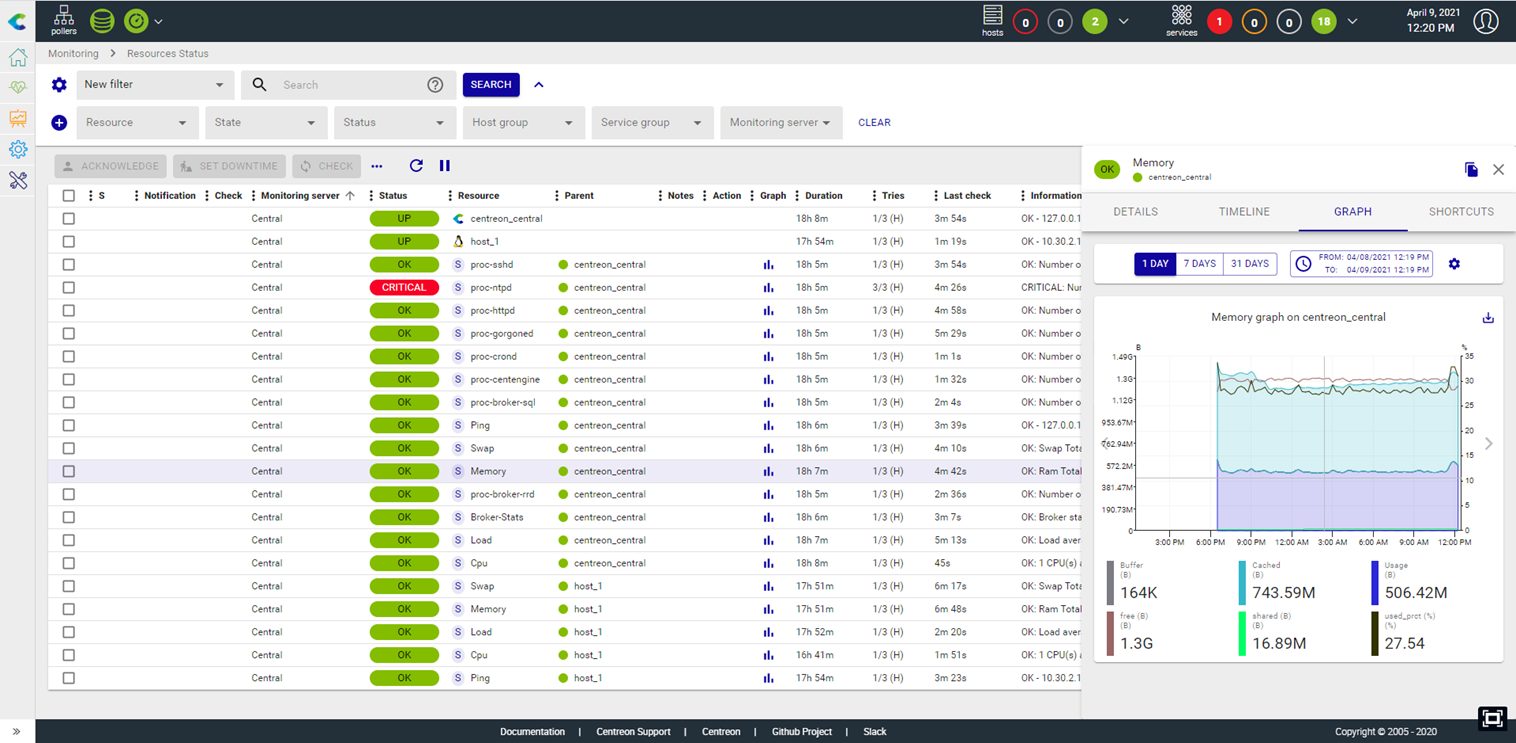 Efficient Event & Alert Management: this is what monitoring is all about! Alerting and sending a notification to on-duty personnel as soon as some critical IT service is experiencing performance degradation. The key being to diagnose and fix the problem before end-users are impacted, resolving down-time in real-time.
Resource Status is designed to cope with the most demanding production environments, a productivity tool for whoever is involved in first-level support. It is designed to filter alerts and only show those that matter, to only display relevant information, to give quick access to detailed information when required and to act with a single click.
Resource Status is part of our Open Source framework. All Centreon users running 21.04 can benefit from this modern, efficient User Experience, whether they use Centreon Open Source or any Centreon commercial editions.
Auto-Discovery Engine: capturing complexity, automatically
IT Operations teams are expert in organizing complexity. Whatever the size and diversity of your IT Infrastructure, surviving IT Operations requires strict naming conventions across all platforms and all teams, comprehensive grouping and categorizing of assets to fit the network architecture or the teams organization and responsibilities, careful assessment of the criticality of each equipment to ensure proper resources and responsiveness are dedicated to what matters most (a key requirement when resources are scarce).
Centreon 21.04 Auto-Discovery Engine has been further enhanced to supplement IT Operations teams. HostGroups, Categories and Severity are the tools Centreon users play with when it comes to organizing complexity:
Centreon Auto-Discovery Engine can now automatically map discovered equipment to HostGroups.

This can be an existing HostGroup or a new one that will then be created on the fly

Newly discovered equipment can also be assigned a Category, a useful feature to make sure the equipment will be included in relevant Analytics Reports.

They can also be assigned a Severity level, ensuring first-line support teams will react according to the equipment criticality, should an alert be raised.
The Auto-Discovery Engine is a key asset to ensure 100% of the IT Landscape is being monitored: you don't want to miss a critical failure because your monitoring configuration is not up-to-date!
Auto-Discovery capitalizes on the Plugin Pack library for ready-to-use configuration templates and built-in discovery rules. At the time of releasing Centreon 21.04, the Plugin Pack library includes a total of 287 Host or Service discovery rules. New rules are added on a monthly basis.
These are some examples of infrastructure that Centreon Auto-Discovery Engine will scan, detect, configure, categorize and monitor – automatically:
Amazon AWS services such as EBS, EC2, EFS, RDS

Microsoft Azure services such as Azure Automation, Elastic Pool, Event Grid, Firewall, Key Vault, Load Balancer, Public IP, ServiceBus, SignalR

Google Cloud Compute services such as CloudSQL, Engine, Storage

Kubernetes clusters, VmWare clusters, Nutanix servers

SD-WAN such as Versa Director, Cisco Meraki, VmWare VeloCloud

WiFi Networks such as Aruba
And also…
This blog post details 3 key areas where we think version 21.04 clearly improves upon the software release you're currently running to make monitoring Cloud-to-Edge infrastructure more efficient than ever.
Centreon 21.04 is Generally Available (GA) today.
It is packaged for CentOS Linux 7 distribution and available for RedHat Linux 8 distribution. You may want to read this blog post about CentOS Support to know more about our packaging strategy in light of the recent CentOS Stream announcements made by Red Hat.
As usual, this new software version comes with numerous minor improvements and stability fixes: please read the detailed Release Notes in the online documentation to get the complete picture.
New to Centreon? Ask for a demo to see if the Centreon platform is for you.