Every month, Centreon extends its connector catalog (a.k.a. monitoring packs or Plugin Packs) and implements new ones, allowing you to connect your IT monitoring with more ITOps tools. The result: increased visibility and business observability capabilities. We also offer enhancements and fixes on existing connectors.
Here is the latest news on your best allies: our monitoring connectors!
To learn more, you can also read the related documentation, contact our sales team or post a message on The Watch.
5 New monitoring connectors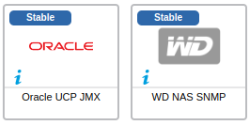 There are five new monitoring packs to discover this month.
Azure Policies States:

Use this connector to monitor the compliance status of Azure policies.

Control-M Rest API:

Use this new pack to monitor jobs in the Control-M job scheduler using the REST API.

Riello UPS SNMP:

Use this pack to monitor the status of the battery, alarms, power source metrics and output lines for this UPS.

Oracle Universal Connection Pool:

This Java-based tool allows reusing connections by caching connection objects to the database. This Plugin Pack monitors the usage of each connection pool and helps you deploy monitoring through an Auto-Discovery rule. As the name of the pack indicates, the objects are monitored using a JMX agent.

Western Digital NAS: Use this connector to discover volumes and monitor their use and the status of the equipment.
Enhancements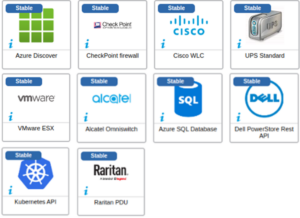 The following connectors were enhanced this month:
Azure Discover: This connector has been enriched to discover all Azure instance types supported by Centreon and more Azure instance types can now be managed.
CheckPoint firewall: This connector monitors CheckPoint gateways. A new disk service template has been added.
Cisco WLC: This connector discovers network interfaces and monitors bandwidth usage. A new access points discovery rule has been added.
UPS Standard: Thresholds for alarm services on UPS monitoring were added.
VMware ESX: New attributes were added to the host discovery provider (ip_management and ip_vmotion) and some attribute types were corrected.
Alcatel Omniswitch: This connector discovers network interfaces and monitors switch status and usage. The interface control service model was refreshed.
Azure SQL Database: The Centreon Azure SQL Database Plugin Pack includes a host discovery provider called Microsoft Azure SQL Databases. It discovers all instances attached to a given Microsoft Azure subscription. Extra options were added to the template to customize the status check associated with the database. The template defines the health of the database.
Dell PowerStore Rest API: This connector controls your Dell PowerStore equipment. Memory control was added.
Bug fixes and major changes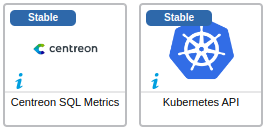 Centreon SQL Metrics: Partitioning mode was corrected.
Kubernetes API: Node discovery was fixed.
Jenkins API: Name of the service was changed, and options were rehauled.
You can find the complete release notes here.
See you next month for more new features!