Every month, Centreon extends its catalog of Plugin Packs and implements new connectors to allow you to connect your monitoring with ITOps tools. The result: more visibility and observability capabilities. We also offer enhancements and fixes on existing Plugin Packs.
Here is our latest news on your best allies: the Plugin Packs!
To learn more, you can also read the related documentation, contact our sales team or post a message on the #centreon-plugin channel on Slack.
New Plugin Packs of the Month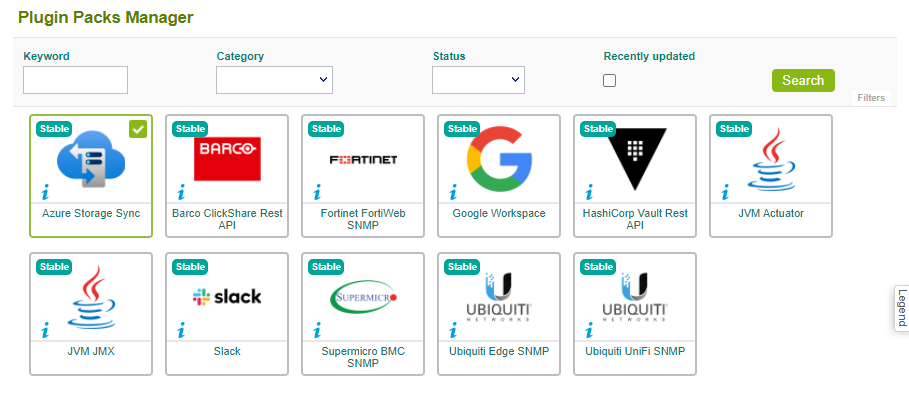 Holiday workbooks
As you may have noticed, summer's been quiet and for a good reason: we decided to use that time to introduce some structural changes to the overall packs ecosystem: 
Migration of the documentation to the new format

Harmonization of logos 

Addition of tags
We are aware that there is still work to be done on the documentation. We are open to all contributions! 
The logos and tags will make it easy to search for a Plugin Pack from the new page of our website, which then includes a link to the documentation.
Newcomers
Connect to online status APIs to see the status of your collaborative tools and services in real time. This is helpful to let users know where the problem lies (internal or service provider): 
Reorganize your JVM monitoring to match your application architecture and your needs. Whether you retrieve your metrics through the JMX and Jolokia API or through a Springboot Actuator module, a Plugin Pack is available for each use:
Actuator

(we use it to monitor Centreon-Map!)
New in the networking area:
Security

side, you can monitor the number of connections and the status of your

Fortinet Fortiweb

application firewall services. 

Access side, the

Ubiquiti

range now has its own monitoring Plugin Packs, one for

Wifi

(

UniFi

) and one for

routing

(

EdgeRouter

).

Hardware

side, our community has allowed us to develop Plugins and Packs for the

Barco CS

range (Clickshare) so that your equipment which allows wireless, fluid presentations is always monitored.
Industrial equipment is also present in this batch, with the addition of indicators for the Supermicro BMC (Board Management Controller).
Finally, on the cloud and application front, there are new Azure possibilities with the support of a new StorageSync service. 
Also, the first milestones for monitoring the operation of the secrets management solution (passwords, tokens, etc.) HashiCorp. Soon, our plugins will cover the use of a safe. Stay tuned 😉 
This past summer's improvements and fixes
Warning: special care required
To improve some plugins and repackage more simply some packs, some Plugin Packs updates need extra care (to synchronize the update of plugins and packs optimally): 
Netapp Ontap SNMP

: aggregate service threshold names are modified, make sure you validate that your alert thresholds are still active after the update.

Google Workspace

: it replaces the Google G Suite following the change of API and data format operated by Google. We recommend creating a new host and to discover the services through it.

Tomcat JMX

: some options names are changing due to code modernization, be careful to synchronize pack and plugin update.
Fixes
If you use one of these packages, update to get the latest fixes: 
Azure SQL Managed Instance
Azure AppService
Cassandra
Palo Alto
Radeon
Redis
VMWare ESX
3CX
Improvements 
Controls and monitoring points: 
Netapp Ontap SNMP

, added monitoring of plexes and cluster nodes

Stormshield

, updated logos and added advanced memory monitoring

Management of mysqld and mariadb processes for the monitoring of

Centreon servers

Added Capacity mode for

Azure Management API

Added virtual stacks monitoring on

Aruba AOS-CX 

Management of the chronyd process in addition to ntpd for monitoring time synchronization processes on

Centreon servers
Device and indicator discovery:
SNMP discovery based on

SNMPv3

authentication options is now available

Amazon EC2

discovery now only returns instances started at scan time

Added Services discovery rules for

AIX, Juniper SSG, Lenovo Iomega, Dell ME4
Want to help us or suggest improvements? Join us on GitHub 💥 and add a star ⭐
See you next month for more new features! In the meantime, find our entire Plugin Packs catalog and our technical articles to better connect your monitoring to the rest of the ITOps world.