As you may have noticed, Centreon releases new connectors (Plugin Packs) as well as enhancements or fixes to existing connectors on a monthly basis.
Plugin Packs help you interconnect your ITOps tools to your IT monitoring solution, providing higher visibility and observability.
We make sure to update you regularly on the latest news regarding your best monitoring allies, our Plugin Packs. 
Should you wish to learn more about some of the new items, you may explore the relevant documentation or get in touch with our Presales team. You can also connect with us using the #centreon-plugins channel on Slack.
New Plugin Packs of the Month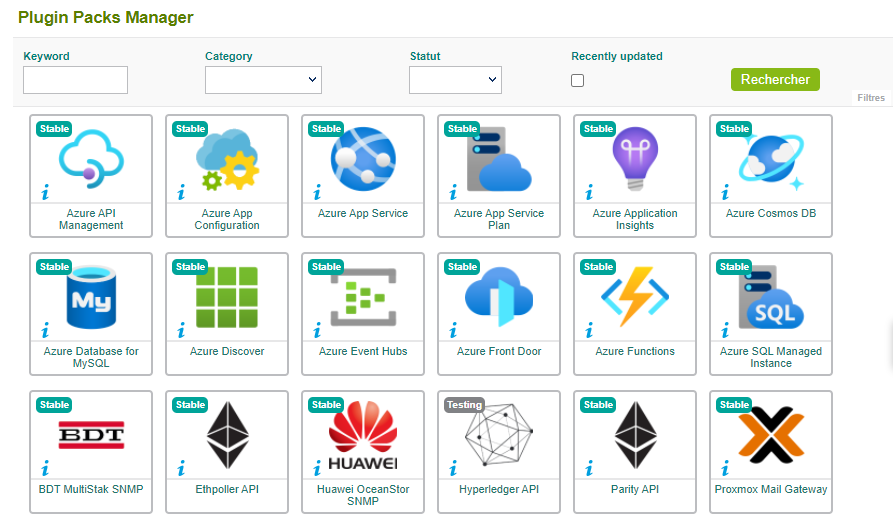 Azure

monitoring and discovery takes on a new dimension
New packages are out to further extend your visibility into the resources and services deployed on the cloud.
Azure: 
Nearly 40 packs dedicated to the monitoring of your Azure resources are now available and it is not always easy to juggle between all these services … 
This is why we have developed the "Azure Management Discover" pack dedicated to discovery. You fill in the information related to your subscription and then the discovery takes care of the rest by listing all your resources and services to assign the appropriate model and associated information … Efficient! 
New features related to host discovery will soon allow you to take advantage of the categorization of your cloud resources (tags) to dynamically manage the properties of a Host. 
New Packs around security, storage and data backup 
SECURITY: Email security and spam management are an increasingly important topic. Take advantage of the Proxmox Mail Gateway monitoring package to detect attack campaigns via the number of viruses and spam, all put in perspective with the volume of traffic and emails. 
DATA BACKUP: Are BDT MultiStak backup robots critical to your data? With this new pack, you can ensure that the equipment is working properly at all times.
STORAGE: Observe your Huawei Oceanstor storage solutions by discovering your controllers and associated storage spaces. Hardware and feature-related alerts, such as deduplication and data copy issues, are also available.
Blockchain now has its online packs and documentation
Depending on the desired monitoring level and the technology used, choose the one that suits you best from the blockchain packs. As of today, the blockchain Parity Restapi and Hyperledger Exporter are available. If your application is based on these implementations you can now monitor them in Centreon.  
Thanks to the eth-poller brick, developed by SystemX and made available in open-source, you can go even further with fine metrics to retrieve and trace. 
Improvements and fixes
Improvements:
Add new Aggregate and APNs models on your Athonet EPC devices. 

Add new alert thresholds for Microsoft365 (Exchange) monitoring. 

Support for formatted metrics associated with scenarios in Maltem Insight Performance.

Add the ability to use the stsAssumeRole functionality with the Paws mode of AWS Plugins.
Security:
Protection of passed content via eval structures to prevent arbitrary code execution.

Use of sudo instead of the perl wrapper historically used to run DHCP and DNS checks.
Fixes: 
Command used for the hardware mode of the Adic Tape SNMP Pack.

Content and associations between host models and service models for the monitoring of IBM Bladecenters. 

Thresholds for triggering alerts on the metrics exposed by Maltem Insight Performance. 

Macros and options used by the Service Profile of the Cisco UCS Pack.
See you next month for the latest updates!
In the meantime, click here to view our full catalog of Plugin Packs and our technical sheets to get your monitoring system connected.