Every month, Centreon extends its connectors catalog  and implements new ones, allowing you to connect your IT monitoring with more ITOps tools. The result: increased visibility and business observability capabilities.
We also offer enhancements and fixes on existing connectors.
Here are the latest news on your best allies: our monitoring connectors!
To learn more, you can also read the related documentation, contact our sales team or post a message on The Watch.
Summer vacations are well behind us. After a good rest, we're bundling together August's and September's new  monitoring packs features and enhancements.
Many thrilling features and enhancements have been implemented during this period. All the Centreon plugins team hopes you'll enjoy them. We also got exciting contributions from the community, and we love it! 
Shortly, some dedicated posts will appear on your favorite community platform to focus on some of this release's highlights. 
Read on for a quick overview of what you can expect from this release. For a deeper dive into all the technical details, make sure to check the release note. 
New monitoring packs available 

Cloud monitoring
From major players like AWS or Azure to a more specific one like Informatica and its data integration service, discover new packs to deploy complete, intelligent, and cost-controlled cloud monitoring as efficiently as possible. You can find all monitorable assets from an AWS region in minutes! 
Flexible IT monitoring
Node Exporter Windows Metrics and Fortinet Fortigate Rest API bring new capabilities to monitor your Windows systems and network devices. Check out the documentation on these new packs assets to learn how to use them and enhance your existing monitoring setup.
Hardware and appliances
We released some new packs for various hardware, including network devices (Netgear S-Series), appliances (Cisco Umbrella), and HCI (Dell EMC VxRail Manager).
Enhancements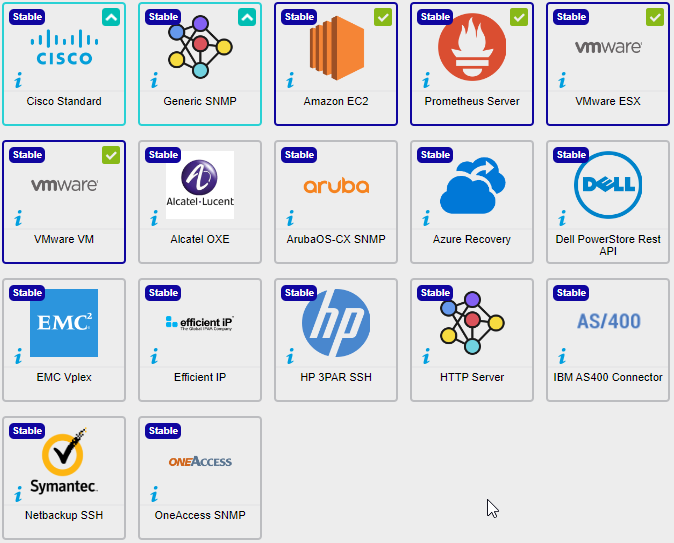 Discovery
Tag management with VMWare Discovery rules, SNMP Discovery customization, Prometheus Targets, EC2 platform details discovery … A bunch of enhancements to make your life easier and reduce the time-to-monitoring.
Up-to-date monitoring 
We've updated a lot of probes to make them compliant with the latest firmwares and API versions. 
We also added some new modes and metrics to many of them. Check out the release note to learn all you need to know (don't stay like Jon Snow)! 
Enhancements impacting current configurations

Heads-up! We reworked all legacy Azure Packs. Be careful as you upgrade to ensure that both pack and plugin are running on the same version. In doubt? Take advantage of the automatic plugin installation feature!
Bugfixes

If you use one of the packs above, you should consider upgrading. Bug fixes may have more or less impact depending on how you use these packs. To know if a quick upgrade is required, simply check the release note.
Want to help us or suggest improvements? Join us on The Watch or GitHub 💥 and add a star ⭐ Also, feel free to come and discuss plugins and monitoring packs on The Watch. 
See you next month for more new features!