The digital revolution did not change your mission as a Managed Service Provider (MSP): Ensuring your clients' IT systems are available and productive, through offering an array of customized managed services. From network monitoring to enhancing applications and cybersecurity, you do the job and you do it well.  
However, your business has changed. You have evolved use cases and practices to better meet customer expectations. For the same reason, you adopted new tools based on a different business model that are better suited to your new reality, such as the tools Centreon provides.
The world is changing, and so are your clients
You have been a partner in the migration to the wonderful world of the cloud – you might even have anticipated it – through services dedicated to hybrid infrastructure. Your daily task is to oversee the coexistence of legacy, private cloud and public cloud architectures to meet increasing needs for agility, as new business models rely more and more on IT.
You were also on the front lines throughout the COVID19 pandemic to help your clients gain agility and meet the challenges of an accelerated digitalization.
"IT environments are becoming increasingly complex and it is essential for companies and their I&O to have a precise view of how the different types of infrastructure work and perform, as they support business operations and therefore the overall functioning of companies. More than ever, business performance depends on IT quality."

Olivier Gallet, Managing Director – MTF Quadra. 
No IT means no business
However, we are just at the beginning of the never-ending journey towards "modern" IT, requiring a complete transformation to become a full-fledged digital company, capable of implementing user-centric products, innovative business models and more agile organizations.
From cloud to edge, doing the same job, but better
The digital business relies on a new generation of infrastructure. This was brought to light during the health crisis, with the exploding demand for digital work environments and contactless technology. The infrastructure must now be able to support companies from cloud to edge computing and IoT, so that people, processes and objects are better connected to deliver the ultimate customer experience.
"By the end of 2021, over 50% of large companies will develop at least one edge computing project to support IoT or immersive customer experiences, compared to under 5% in 2019." Gartner
New expectations from your clients
In order to meet their new IT and business needs, companies are requiring new services and new expertise from their MSPs. Gartner has identified 10 key skills required by clients from their managed service providers: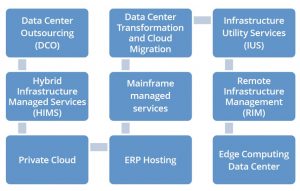 New strategic challenges for MSPs
Considering the fast-changing market and reduced time-to-market, MSPs face a new challenge: supporting their clients in their strategic shift towards the digital enterprise at the right time, while continuing to do their job well, thus:
Staying productive and profitable despite the major changes in the business.
Creating value for your clients by offering ever-expanding and ever more competitive services.
Expanding their scope of action to integrate new infrastructure from cloud to edge computing.
Identifying the right business models in line with the evolution of the digital economy.
Providing their clients with a view of their IT system's performance in order to ensure its governance and communicate with the Lines of Business (LOB).
Meeting their clients' new needs in terms of telecommuting, hybrid IT system, but also integrating edge computing and IoT
"By 2024, at least 50% of the applications used in companies will be compatible with IoT." Gartner
New growth opportunities
The success of digital companies fully depends on their ability to guarantee the performance of complex IT workflows, which are the key to delivering an innovative customer experience and enhancing business processes.
After the hybridization of IT systems, welcome to the era of IoT and the edge
Always in search of the ultimate customer experience, companies are now relying on IoT and edge computing to deploy interactive environments to provide their clients with a new quality of service (touch screen kiosks to order a menu, payment terminals coupled with a barcode scanner to do the shopping and so on).
But they can't do it on their own! MSPs have a part to play to help them manage an increasingly complex IT system on a daily basis.
From cloud to edge computing, imagining new types of services 
This evolution in technology and behavior creates new growth opportunities for MSPs, integrating cloud as well as IoT and edge computing technologies.
"By 2023, two thirds of MSPs will be generating at least 50% of their income from managing their clients' edge environments."  Gartner
MSPs are ready to expand their portfolio of services from traditional management of network infrastructure, security and data, to integrate remote and connected devices (IoT, mobile, edge computing).
This new service portfolio requires a reliable IT monitoring platform, capable of anticipating tomorrow's IT, ensuring a holistic view from cloud to edge and developing communication with the lines of business thanks to a business-centric approach.
"The arrival of the Internet of Things into business processes and services makes monitoring and supervising these assets more critical and more complex. Recent regulations are putting even more pressure on companies to consolidate and unify their IT governance, with monitoring and reporting remaining essential pillars."

François Philippo, Business Development Manager – Econocom PSF.
No transformation without IT monitoring
To seize these new opportunities, MSPs must first integrate a monitoring platform into their operations center, which will ensure operational excellence through a holistic view shared by their teams and their clients.
Going further
If you too believe Smart Monitoring can become your best ally in reinventing your business and uncovering new growth opportunities, be part of the growing community of Centreon MSP Edition users.