Just because you have a smaller ITOM team or budget doesn't mean you should be deprived of reliable and professional IT monitoring!
With Centreon IMP, tracking IT availability and performance becomes easily accessible and fast to implement. Robust and highly-affordable, it gets resource-challenged IT superstars operational in no time – even for monitoring novices.
What is exactly Centreon IMP?
Centreon IMP includes Centreon open source monitoring platform and its huge catalogue of plugin-ready IT domains.
Centreon IMP allows ITOM professionals to empower with round-the-clock monitored IT information and insight, regardless of sector, size or IT staff and resources.
Why opt for Centreon IMP?
Centreon IMP focuses on helping you get installed and integrated to monitor diverse IT assets as quickly as possible at a bargain. And it does not heap on more work or use up valuable resources you don't have!
Centreon IMP is a ready-to-run full-featured monitoring platform, with free and unlimited access to 11 Plugin Packs among more than +160.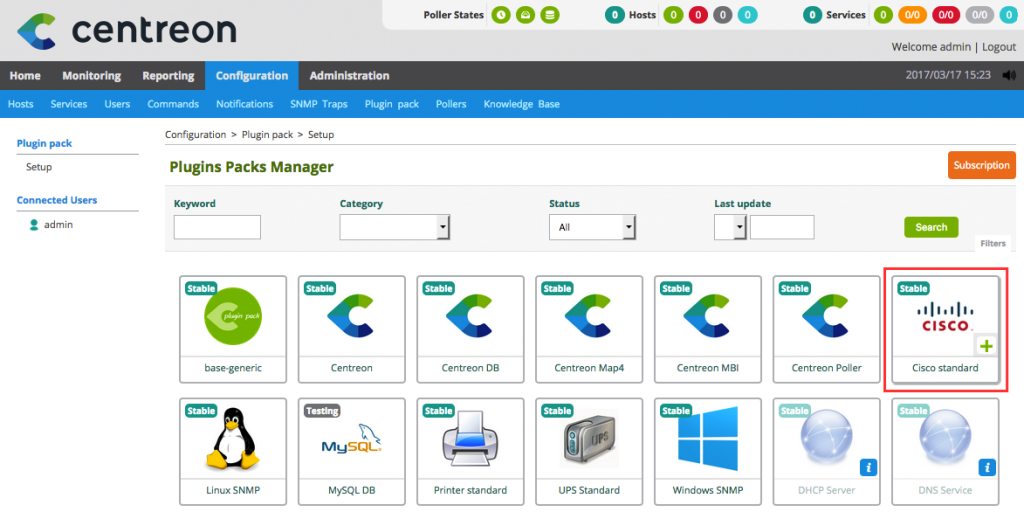 What is the Plugin Pack Manager?
Its ergonomic and intuitive interface simplifies access to Plugin Packs and their installation via the online platform supplied by Centreon's software publisher. The objective? To significantly improve your Time-To-Monitoring.
How to access to Centreon IMP?
A single watchword: online! Online subscription, online installation and online help desk.
Subscribe to a no lock-in monthly subscription or benefit from a reduction on annual plan, then you can install Centreon IMP directly online.
Benefit from an online help desk: email help desk through a dedicated subscriber account, online technical documentation, FAQ, GitHub, forum…
Learn how to improve your Time-To-Monitoring with Centreon Plugin Packs.