In the coming weeks, Centreon will announce its newest version of the software suite. Version 18.10 will bring its fair share of new functionalities, with specific changes kept under wraps until its release. We'll also announce a new versioning scheme, including bi-annual software release plans. Centreon is strengthening its organization in line with its new international ambitions and scheduled software releases align with our new plans!
Centreon 18.10 software suite
Centreon is growing at a fast pace to keep up with technology trends. While enterprises accelerate their digital transformation, they're looking for valuable business-aware IT monitoring solutions. The Centreon software suite perfectly responds to these new challenges and is becoming a global market leader across all industry sectors.
Centreon is expanding its international reach by opening operations in Luxemburg and North-America. Led by Romain le Merlus, cofounder of the company, Centreon opened its North American headquarters in Toronto in September, 2018.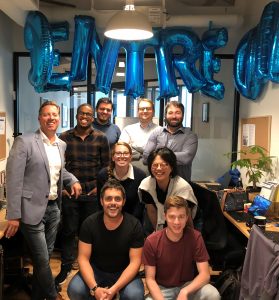 Centreon Toronto Team
As a consequence, Centreon is being strengthened with our Product and R&D team doubled in size within 18 months. Because of our growth, Centreon is making steps to provide a more transparent, easy to understand software release plan designed to help our open-source users and customers better organize their IT Operations.
With the release of Centreon 18.10, our update to the versioning scheme apply to both the main software suite (Centreon open-source, Centreon IMP and Centreon EMS) and to all of its software components.
Software solutions, software components: same versioning
In a few weeks, we will simultaneously release the following:
Centreon open-source 18.10, with fully packaged ISO can be downloaded for free, while its source code available to all on our GitHub
Centreon IMP 18.10, our Instant Monitoring Platform solution, that adds the Centreon EPP set of functionalities and its Plugin Packs library to accelerate time-to-monitoring.
Centreon EMS 18.10, our flagship Enterprise Monitoring Server solution, that adds to IMP three value-add modules: Centreon MAP, Centreon BAM and Centreon MBI.
To make it easier, these modules now share the same version number as the solutions: Centreon MAP 18.10 and Centreon MBI 18.10. This new rule of aligning versioning numbers is extended to all the software components including: Centreon Web 18.10 and Centreon Broker 18.10.
[Break]
Now is the time for all Centreon aficionados who've been using our products with care since 2005 to take five minutes to go through the five stages of grief to finally accept they will no longer have to juggle with multiple version numbers of Centreon Web 2.8, Broker 3.0, Engine 1.8, MAP 4.4, BAM 3.6 or MBI 3.2 that come together to make Centreon EMS 3.4.6. We agree, at first version 18.10 sounded strange to us too, but the truth is, we got used to it and have never looked back!
[End of the break]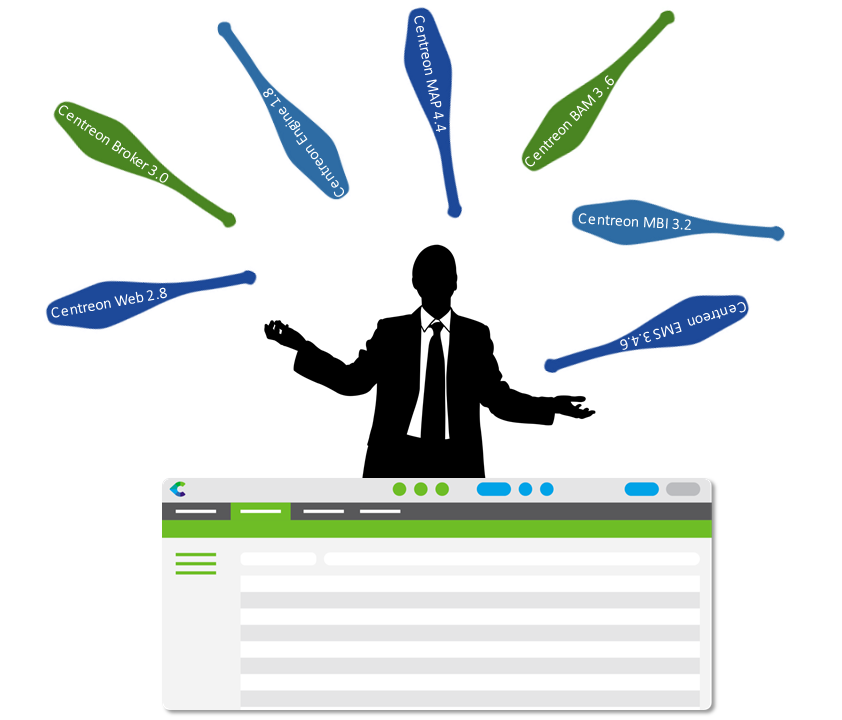 One new version every six months
Centreon 18.10 will be available October 2018. Following this format, our next software release of version 19.04 will be available April 2019.
By broadcasting our release dates well in advance, we hope to facilitate how IT Operations Management teams plan and organize their plans. In particular, organizations need to ensure their entire production environment, combining Centreon with many IT Automation and ITSM tools, stays up to date. IT is so critical that IT Monitoring itself is increasingly critical, requiring careful planning to make sure all involved tools are always fully operational.
We promise to ensure updating versions as smooth and transparent as possible. This new bi-annual release plan is a first step towards the longer term goal of continuous software delivery.
18-month bug-fix plan
With this new bi-annual release plan, Centreon will fix software bugs on three versions simultaneously: the current version as well as the previous two.
As usual, only critical fixes will make it to the oldest version. This is summarized in the following diagram:

P0 : critical bug-fixes
P1 : major bug-fixes
P2 : minor bug-fixes
If you think the information in this article is incomplete, or you already have detailed questions about the new product lifecycle or the current software versions (such as Centreon 3.4.6 or Centreon Web 2.8.x): don't worry, we'll get back to you in due time. At the time Centreon 18.10 is released, the online product documentation will have been updated with more detailed information. We also plan to share answers to the most Frequently Asked Questions.
Let's begin a new adventure!
Since 2005, we've been proud to serve our more than 200,000 loyal open-source community users. Our Centreon IMP and Centreon EMS solutions are enjoying growing, global success. Releasing Centreon 18.10 is a further step in the development of the Centreon software company.
By bringing more transparency and clarity to new software versions, we're gearing up for the acceleration of digital transformation and new IT Monitoring challenges Centreon users are facing today and for many years to come!