The cloud is a staple of digital environments, and monitoring cloud infrastructure is therefore an inescapable reality for ITOps, including IT production directors, application owners, and cloud architects. Cloud monitoring enables observability into cloud-based infrastructure, services, applications, and user experience. With the right cloud monitoring solution, you can not only observe the cloud environment, but review and predict the performance and availability of the infrastructure, either in its entirety, or in its parts, by drilling into each element, for troubleshooting or capacity planning purposes, for example. This blog post provides an overview on monitoring cloud infrastructure, its requirements, as well as success factors for monitoring cloud infrastructure. The end of the story? Don't make cloud monitoring a separate activity—make sure it is unified with all monitoring and an integral part of your dashboards and automation strategy, so that what you observe are the business impacts of cloud performance.
Why is cloud monitoring not just your cloud provider's concern?
Public cloud is easy to use and comes with the support of the provider. But IT teams are still responsible for ensuring their cloud environments are running smoothly and that applications are working as expected. So, you can't yet turn a blind eye on monitoring cloud infrastructure.
A lack of visibility into cloud environments puts enterprises at risk of delivering poor digital experiences that adversely impact revenue, brand reputation, or employee productivity.
How monitoring cloud infrastructure works
There are three avenues to monitor cloud environments—and the first two come with important roadblocks that should be carefully considered.
1. Using the cloud vendors' monitoring services
.
Each cloud platform, public and private, offers a separate set of monitoring tools. There are a few concerns with this approach:
It can lead to metric and alert inconsistencies.

 

It prevents cross-environment analysis.

It is limited to the monitoring capabilities of individual cloud providers.

It is usually not customizable.
2. Using traditional monitoring
.
This approach consists in using monitoring tools that were created to monitor data-center infrastructure and applying them to cloud infrastructure. This approach can be quite expensive or inefficient given the ephemeral nature of cloud components as well as the differences in how they are managed.
3. Using a hybrid solution.
This approach allows monitoring traditional data center technology as well as leverage cloud monitoring services to get observability across cloud and hybrid environments. This is the recommended approach for today's digital organizations, and it's the one employed by Centreon.
How does Centreon monitor cloud infrastructure?
Centreon employs a hybrid approach that is highly adapted to constantly changing, hybrid environments, offering continuous auto-discovery of hosts, cloud services, containers, networks, etc, within the cloud configuration context (tags, regions etc). Centreon leverages API-based data collection (e.g., from AWS CloudWatch) and predefined monitoring templates that are continuously enhanced to follow the fast pace of innovation in cloud technologies, so your monitoring is always fresh and effective.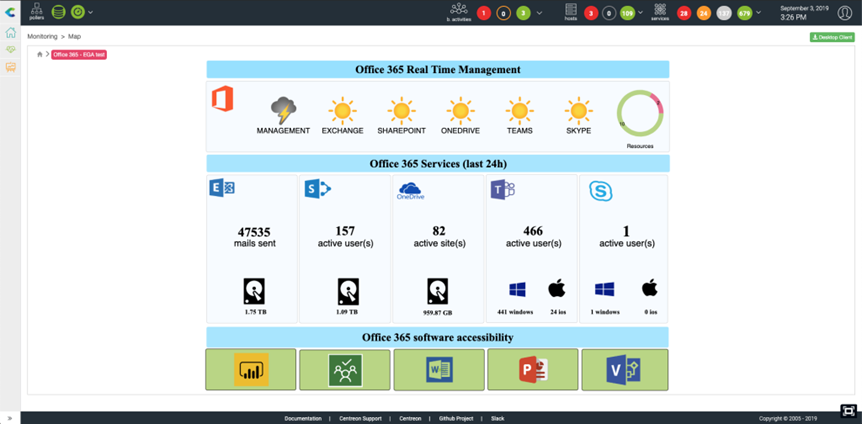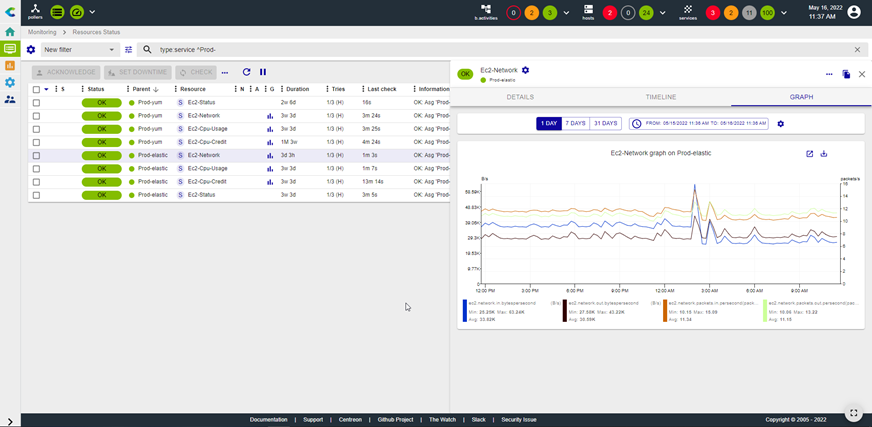 Try monitoring the cloud with Centreon for free.
More powers: customization & integration
In Centreon, dashboards and maps can be customized to visualize KPIs across the full stack, reflecting the business context. It comes with standard connectors to integrate with other ITOps tools (incident response, ticketing, observability stacks, etc.) that foster team collaboration and allow to proactively fix anomalies and reduce time to repair. So really, you get to do much more than just monitoring cloud infrastructure, you create a strong base to support observability and a superior user experience.
 At a glance: Monitoring the cloud with Centreon
Cloud monitoring packs:

IaaS (e.g., AWS,

Azure

, Google),

PaaS (e.g., Office365, AWS Aurora)

Containers (e.g., Kubernetes, Cloud Foundry)

Maps and dashboards

Integration to ITSM solutions (ServiceNow, Jira) and incident response (PagerDuty, Opsgenie, Signl4)
Sit down, relax, have a cloud monitoring pack
As hybrid and multi-cloud environments have become more pervasive, and create more complexity, organizations need complete visibility to determine whether all workload resources serving business-critical applications are working optimally. This is the chief reason why you should think of your IT monitoring as a unified platform, transcending technologies and reuniting all technology stakeholders around what truly counts, the performance of business workflows.
 What do you need to achieve such a unified status? Simple! A single solution that monitors the cloud, and anything else on premises, or at the edge, for an immersive experience in monitoring, from devices up to the user experience.
 Monitoring the cloud with Centreon, a simple, 4-step process
Implement cloud monitoring packs to ensure there is no gap in cloud resource coverage

Ensure tags defined for cloud resources are mapped to Centreon objects

Evaluate services to monitor, and how they impact business applications

Determine the notification policy for integrating with Incident Response system
 Be on your way to monitoring the cloud and everything else.
What to remember
Centreon provides deep insights into the uptime, health, and performance of multi-cloud services and hybrid applications. It allows consistency across monitoring practices for better efficiency in diagnosing and identifying issues by establishing standard business impact models, data visualization, and actionable workflows.
 Ready? Check out these tutorials