Over the years, ITOps have seen monitoring become increasingly strategic for the business. The reason is simple: business relies on IT. No IT means no business. Centreon's State of IT Monitoring has highlighted the fact that, while ITOps are fully aware of the importance of communicating with the Lines of Business (LOB), few of them do so by leveraging monitoring tools. What if monitoring platforms, in addition to playing a critical role as a control tower for the IT system, became the latest communication tool used to connect IT and Business?
Are you Business?
We don't need to spell it out: the times when LOB and I&O would clash in fruitless debates filled with incomprehension and tension is over. Now that the marriage has taken place (whether it was arranged or not), Business and IT can no longer sleep in separate rooms, and everyone can see that Business and IT have need to communicate better. Firstly, because the role of I&O has evolved and now supports LOB in creating value. Secondly, because LOB have also gained in technological maturity and are more involved in projects.
So, the question no longer is "Do you speak with the Lines of Business", it actually is "Do you speak Business? ".
90% of ITOps consider that issuing and sharing Business KPIs is important
ITOps are fully aware of this, as highlighted by the first key figure in our State of IT Monitoring, showing that IT teams understand the importance of increasing communication with LOB 90% of respondents consider it is very or fairly important for their IT team to issue and share business-oriented KPIs in the future.
IT teams have matured. They ensure the company's digitalization and are well aware of the importance of supporting the LOB in the transformation, providing them with indicators on the state of performance of the IT system, and above all of their business applications.
For 37% of ITOps, generating business-oriented KPIs is one of the first benefits provided by IT monitoring
While sharing Business KPIs is important for ITOps, they are also well aware that IT monitoring helps generate these business-oriented KPIs and make them available.

Thus, the benefits of implementing an IT monitoring solution obviously include immediate profits for IT (more efficient teams, better quality of service), but they also include benefits for the organization as a whole, thanks to business-oriented monitoring KPIs and better communication with LOB.
We're talking here about indicators that are relevant to users in LOB, indicators they need in order to see if the conditions are good for working. Availability indicators, and also performance indicators for the tools they use on a daily basis.
"While breakdowns are quickly identified in the context of Business Continuity Planning or a Disaster Recovery Plan, a failure in a data center impacts the daily work of the agents using the business applications. The aim is to deliver business views, with easy-to-read weather-type pictograms for critical applications, and to provide a mapped view for the help desk. The third step is to produce reports for our managers. "

Anne-Marie Auxiètre, Infrastructure Project Manager at Clermont-Ferrand Metropole
49% of ITOps already share business-oriented KPIs and 35% of them plan to do so in the next 2 years or beyond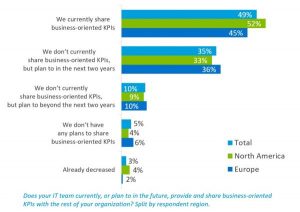 This may seem satisfactory.  Or it might not. One in two organizations already shares business indicators. But at what cost? How do they proceed? Do they use the tools provided by monitoring solutions such as Centreon? Not necessarily, as we can see by combining this figure with the figures from our monitoring maturity assessment tool, designed for organizations. This research, which was carried out over a certain period of time with data provided by the test participants, highlights that
19% of the ITOps surveyed only use KPIs for IT availability and performance and 41% only have partial visibility on business processes and SLAs…




So the road is still long before all ideas are actually put into practice!
For 43% of organizations, extending the production of IT monitoring indicators to business-oriented KPIs will actually be a top priority by 2023
This is rather good news, and at the moment good news is rare: many organizations (almost one out of two) plan to share business KPIs in the next two years (and beyond). For these organizations, generating business-oriented KPIs will be their 4th priority in terms of IT monitoring over the next 3 years.

But to do so, they need the proper tool, as over 30% of them consider that the first two causes of dissatisfaction regarding their monitoring tools are the lack of interoperability and the lack of unified visibility.

Is your organization among those wanting to develop their IT monitoring solution, switching from technical KPIs to business-oriented KPIs? A successful transition will require more performing IT monitoring tools by 2021. Find out how mature your IT monitoring system is and learn how we can help you expertly manage your digital workplace in 2021 and beyond.
Download our State of IT Monitoring now and read all the key figures on monitoring trends.  Based on an international survey commissioned by Centreon, this study conducted by Vanson Bourne was carried out among 600 IT professionals in organizations over 500 employees, in the following countries: the United States, Canada, France, Great Britain, Germany, Italy, Spain.